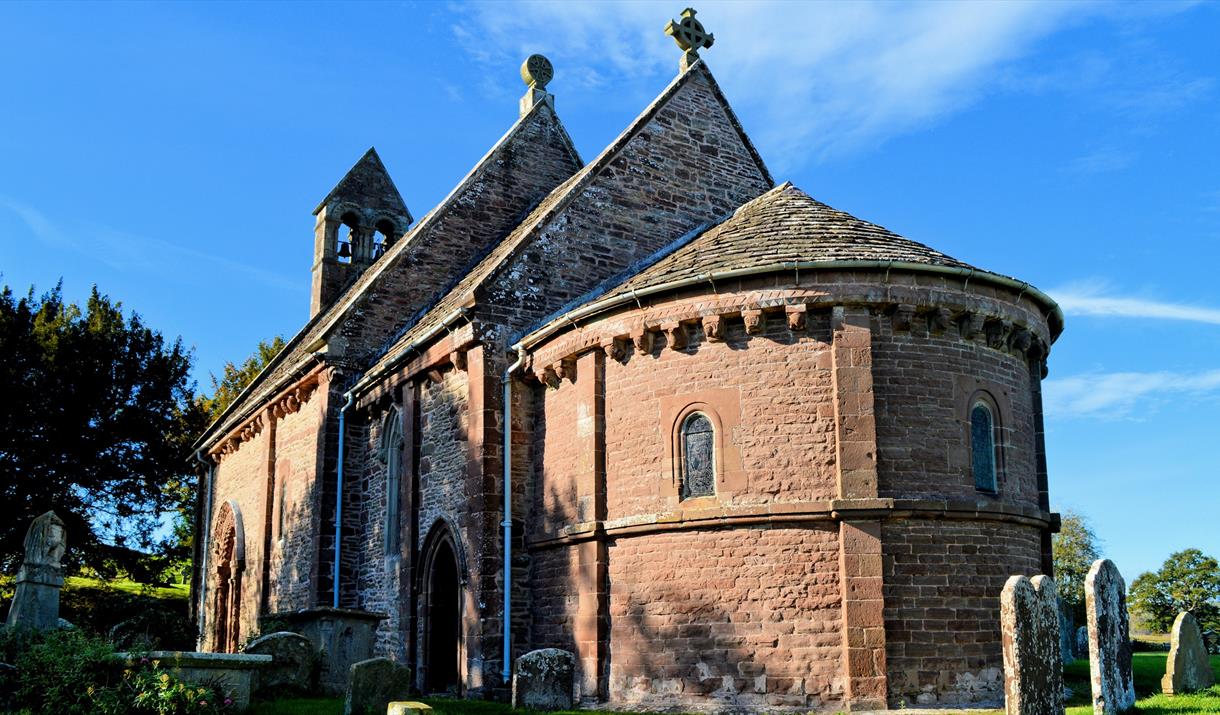 About Us
Kilpeck Church, the Parish Church of St Mary and St David in Kilpeck is located in Herefordshire near the Welsh border, is home to the finest collection of Romanesque sculpture in England. It was built in about 1140 and has survived remarkably intact and unaltered to the present day.
The plan of the church, with a nave, chancel, and semicircular apse, is typical for the time of its construction, the Norman period. It was originally dedicated to a St David, probably a local Celtic holy man, and later acquired an additional dedication to Mary from the chapel at Kilpeck Castle after it had fallen into disrepair. The church was substantially repaired in 1864, 1898 and 1962, and its unique features were protected and maintained.
The west window and south door are beautifully carved figurative and abstract designs the carvings draw their themes from the pilgrim routes in France and Spain and incorporate the artistic traditions of the Vikings, Saxons, Celts, Franks and Spaniards. Some reflect everyday medieval life, some depict mythical beasts and symbolic creatures, while others are abstract decorations. Very few have explicit Christian themes.
The tympanum over the south door has a lovely carving of the Tree of Life. Over this are two orders of arches, the inner arch being the earlier and more interesting. Some of the figures are from The Bestiary, a popular medieval guide in which real and mythical beasts are used to represent moral teachings. One of these is the Mantichore, the Bestiary described this as having a triple row of teeth set in a man's head on a lion's body and a tail with the sting of a scorpian. It ate human flesh and could seduce man from the paths of virtue with the voice of a Sibyl. On the left-hand capital is a Basilisk - born from the egg of a cock, hatched by a toad or serpent and was lethal by its glance if it saw you first.
The entire roofline around the church is decorated with carved corbels, originally 89 in total. A few are missing, but most are intact and in excellent condition. It is generally presumed that they were intended to teach something, however, many also seem to be simply entertaining or the ideas of the individual carvers.
Today, Kilpeck village is home to less than 150 people, but Kilpeck Church is still a place of worship, with a service held at least once every three weeks, and thanks to its splendid collection of Romanesque carvings, it is a popular stop for tourists and church enthusiasts.
The nearby Kilpeck Castle was built as a cavalry base and local admin centre after the Norman invasion in 1066 as one of a series along the Welsh border. Now ruined only two fragments of the original walls remain.
Book Tickets