As the leaves don their fiery autumn hues and the air takes on a crisp, mysterious edge, it can only mean one thing: Halloween is approaching. If you're seeking an otherworldly adventure this spooky season, look no further than the mystical realm of the Forest of Dean and the enchanting Wye Valley. These ancient woodlands hold secrets and surprises that come alive under the glow of the harvest moon. From haunted trails to pumpkin-lit festivities, join us as we unveil the most bewitching Halloween events that promise to send shivers down your spine and ignite your sense of wonder. Get ready to step into a world where the boundary between the living and the supernatural blurs, and every shadow hides a delightful, spine-tingling surprise. Welcome to Halloween in the Forest of Dean and Wye Valley - where the magic of the season meets the thrill of the unknown.
St Briavels Halloween ghost hunt weekend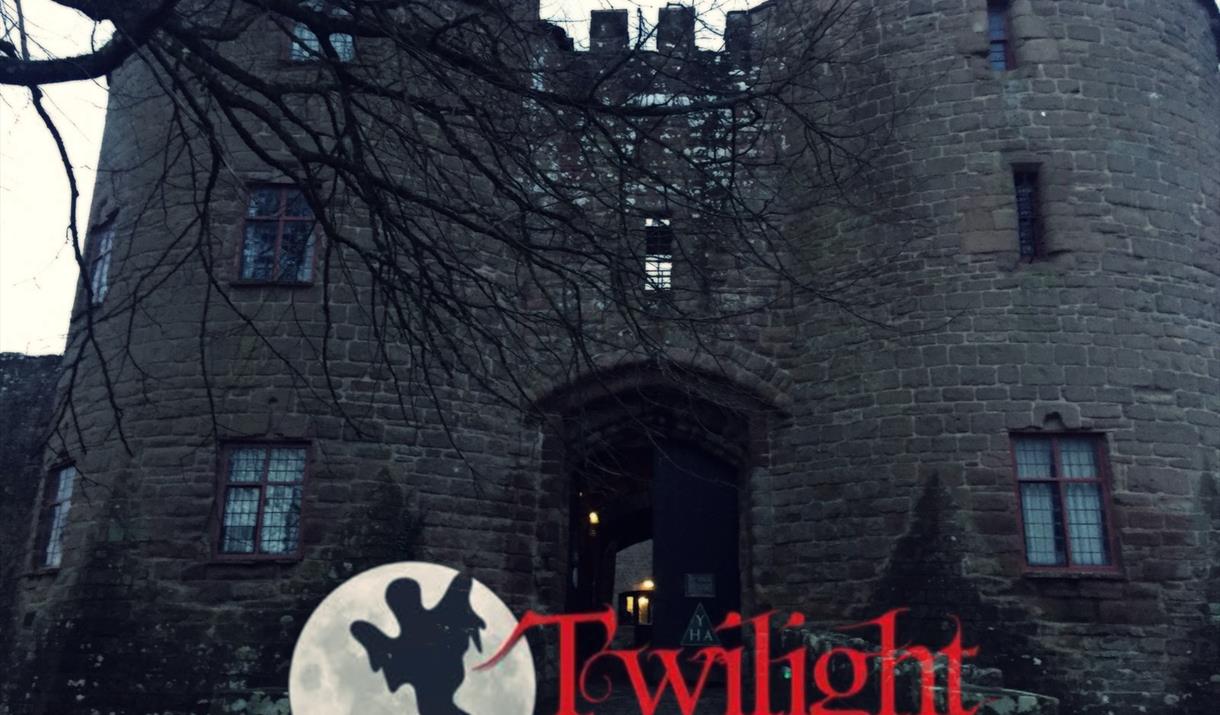 Are you ready for a spine-chilling adventure like no other? Prepare for two nights of heart-pounding paranormal investigations led by the renowned Twilight team of investigators. But that's just the beginning.
Picture this: workshops on mastering ghost hunt equipment, delving into the mysteries of dowsing with crystals and rods, and even unlocking the ancient arts of witchcraft circles and spells. You'll have exclusive access to the castle all weekend, ensuring your stay is nothing short of extraordinary.
And speaking of your stay, imagine resting your head in one of the castle's own storied rooms. Each night, indulge in a sumptuous cooked and continental breakfast prepared by the castle staff, followed by a delectable Saturday night dinner courtesy of the talented Twilight team. Need a pick-me-up during your paranormal pursuits? We've got you covered with a tempting array of snacks and refreshments available round the clock.
This isn't just a weekend away; it's an unparalleled journey into the supernatural at a location steeped in history and mystery. Don't miss out on this once-in-a-lifetime experience. Embrace the unknown and reserve your spot for a Halloween like never before.

---
Halloween Fun at Puzzlewood

Are you ready to step into a world where the ordinary fades away, and the extraordinary takes center stage? Join Puzzlewood for an unforgettable woodland escapade, where every twist and turn leads to magical discoveries and spine-tingling surprises.
As you wander through our bewitching labyrinth, you'll find yourself surrounded by an eerie woodland, where ancient trees whisper secrets of centuries gone by. Keep your senses sharp, for hidden among the leaves and shadows, you may just stumble upon eerie delights that will send shivers down your spine.
But that's not all - there is an array of enchanting activities to ignite your imagination. Take on the challenge of our wicked word search, filled with tantalizing clues and cryptic riddles. Successfully navigate its twists and turns, and you'll earn yourself a crafty treat to commemorate your adventure.
Feel like adding an extra thrill to your woodland sojourn? Embrace the Halloween spirit by donning your most creative fancy dress attire! Let your imagination run wild, and become part of the enchantment that surrounds you.
So, gather your fellow adventurers, don your most magical attire, and prepare to be enchanted by the mysteries that await in the heart of the woodland. This is not just an outing; it's an immersive experience, a journey into the unknown, and an opportunity to create memories that will last a lifetime.

---
Halloween at Dean Heritage Centre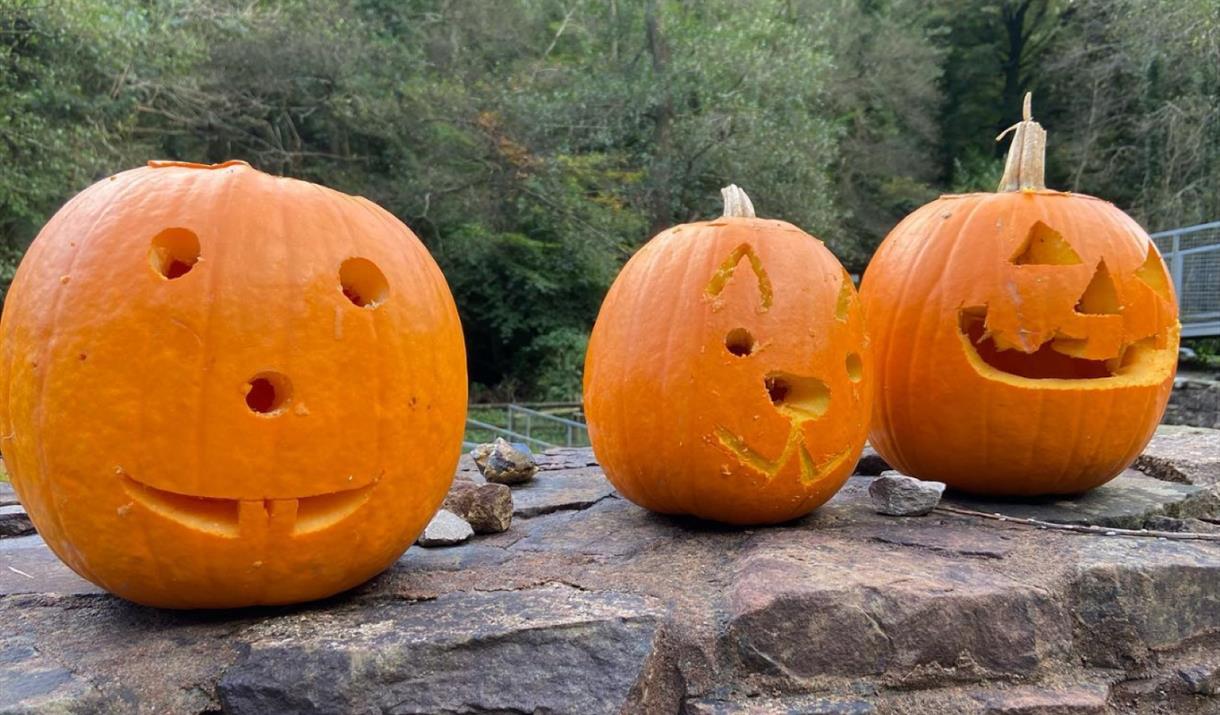 Pumpkin Carving Extravaganza: Unleash your creativity and carve out eerie, grinning faces in plump pumpkins. Indoor Ghost Trail: enjoy a trail around the Dean Heritage Centre and encounter some spooky creatures. Witches' Cottage: Step into the world of ancient sorcery and explore the secrets of the Witches' Cottage. Here, you'll find potions, spells, and perhaps even a few mischievous imps. A bewitching experience not for the faint of heart! Book Signing by Margaret Iggulden: Meet the acclaimed author Margaret Iggulden in the gift shop, where she'll be signing copies of her spellbinding works. Delve into tales of magic, mystery, and the supernatural, and take home a piece of Halloween enchantment. Monsters tea party you are invited to our Monster Tea Party, accept if you dare! Enjoy some frightfully good fayre on 28 and 29 October.


---
Halloween Half-Term at Goodrich Castle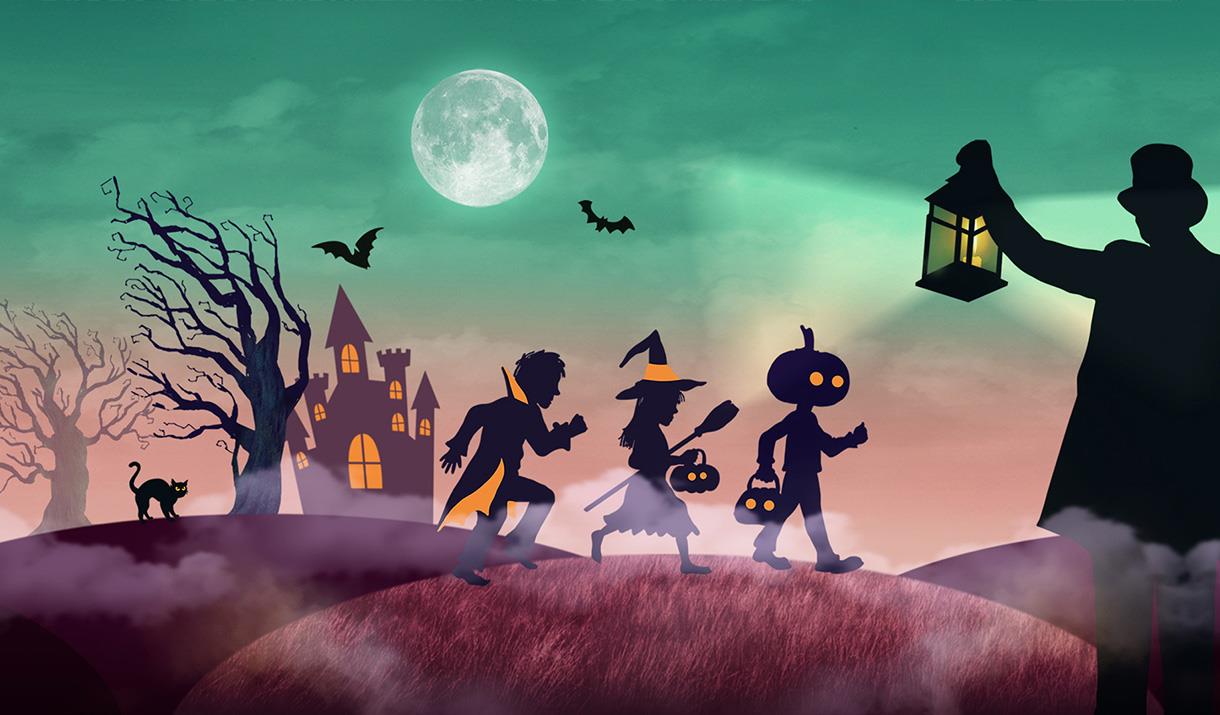 Uncover the ancient 'Legend of Halloween' and unlock the secrets of the 'Book of the Dead', immersing yourself in a journey of spine-tingling discovery. Every step of the way promises frightful fun and hair-raising excitement!
From the 21st of October to the 5th of November, join us on our Halloween Quest, a quest like no other! Seek out magical potion ingredients hidden within the castle's mysterious depths. Engage in activities and unravel the spine-chilling clues in our specially crafted booklet, and soon you'll find yourself transformed into a wonderfully wicked witch's apprentice!
This is an experience not to be missed – where history meets magic, and the ordinary transforms into the extraordinary. Goodrich Castle awaits, ready to bewitch your senses and leave you spellbound. Don't let this bewitchingly brilliant opportunity slip through your fingers!

---
Halloween Pumpkin Carving at Beechenhurst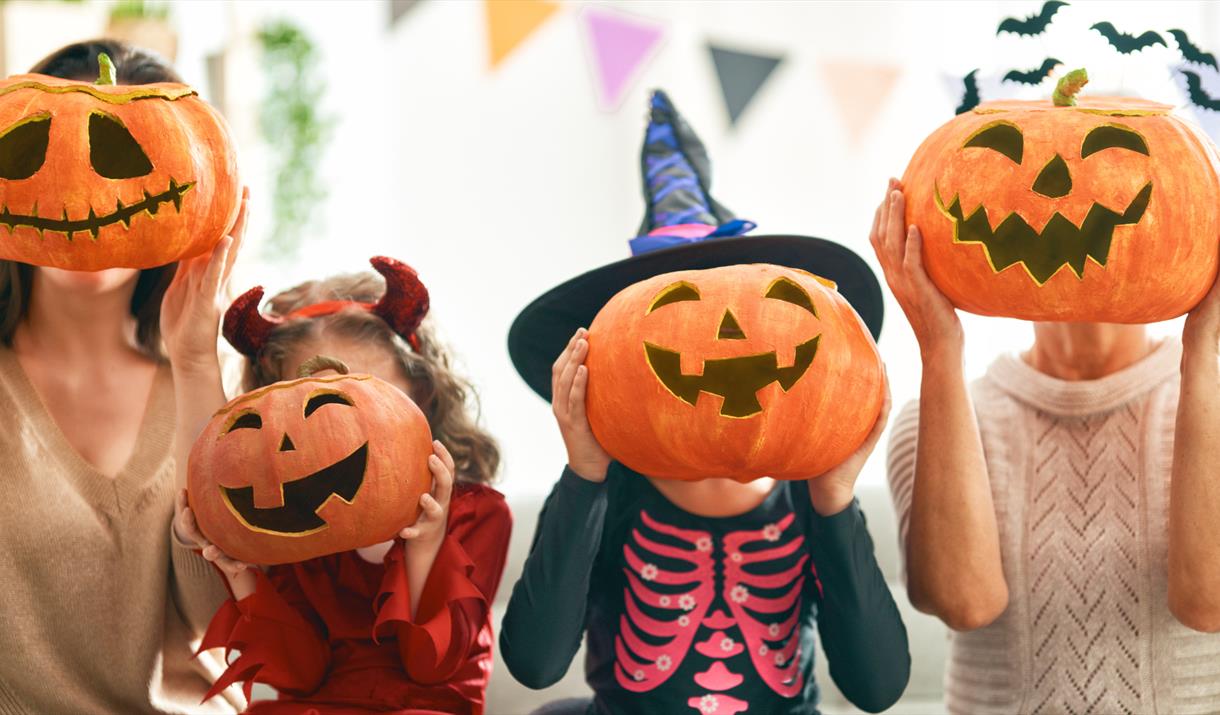 This October half-term, Beechenhurst invites you to immerse yourself in the magic of Halloween with a creative twist. On 30 and 31 October prepare for a day filled with ghoulish delight and artistic expression, as you carve your very own pumpkin masterpiece. Book Early, Craft Spookily: Given the popularity of this spine-chilling event, pre-booking is highly recommended. Secure your spot to guarantee a frightfully fantastic experience, and avoid any potential disappointment. Delight in Devilishly Delicious Treats: After crafting your eerie creations, Beechenhurst Café beckons with a tempting array of scary treats. Why not amplify the spooky spirit by donning your most bewitching fancy dress attire? It's a chance to revel in the festivities in style!

---
Kids Halloween Baking at Harts Barn Cookery School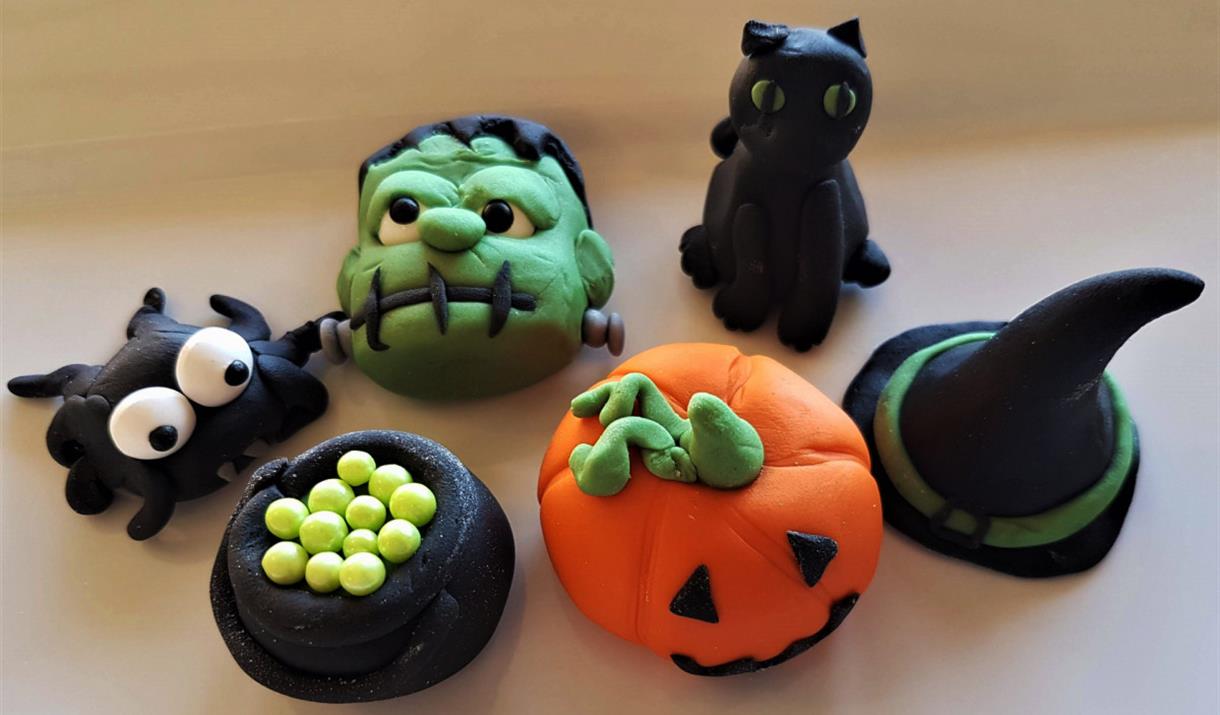 Dive into a world of eerie enchantment at the Cookery School this Halloween season. Join them for a Kids Cookery session that promises to turn budding bakers into masters of the spooky confectionery arts.
Sinister Sweet Creations: Unleash your inner kitchen wizard and craft an array of hauntingly delicious treats. From creepy Witches Fingers to intricate Spider Web Cookies and endearing Ghostly Biscuits, these spine-tingling delights are sure to bewitch the taste buds. Hands-On Experience: Get ready for a hands-on baking extravaganza! Under the expert guidance of seasoned culinary maestros, participants will bring these ghostly goodies to life. A Treat for All Ages: While the young ghouls and goblins take center stage, children under 7 years are encouraged to bring along an accompanying adult for a truly magical bonding experience. Duration: The adventure spans a thrilling 2.5 hours, ensuring ample time for both the baking magic and the eerie excitement to unfold. Aprons and Refreshments: Fear not, for aprons and a refreshing soft drink will be provided, ensuring everyone is comfortable and energized throughout the spellbinding session.

---
Halloween Party at Clearwell Caves (Adults Only)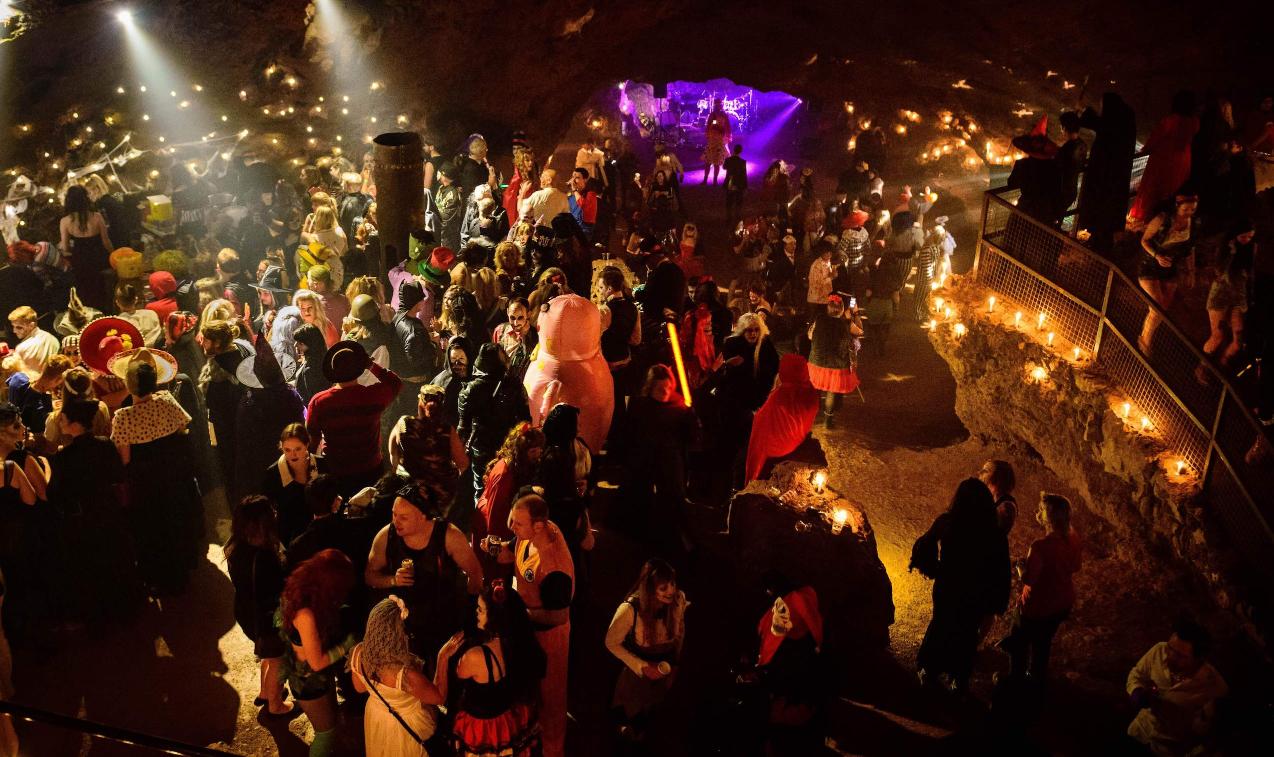 Dive deep into the heart of excitement with tickets now available for the most extraordinary Fancy Dress party of the year! Prepare for a night of unparalleled entertainment, where every moment is infused with electrifying energy.
Live Band and DJ: Get ready to groove to the beats of an exceptional live band and professional DJ, ensuring the dance floor is pulsating with infectious rhythm all night long. Fancy Dress. Adults only. Licensed Bar. A Devilish Subterranean Setting: Immerse yourself in the unique ambiance of our partly candlelit cavern. It's a unique surreal backdrop, 100ft below ground, that adds an air of mystique to the festivities. The evening kicks off at 8.00pm and promises to keep the party spirit alive well past midnight.
Clearwell Caves also have a Spot the Pumpkin competition running from 21st October until 5th November where children can join in the Halloween fun to see if they can count the correct number of Pumpkins and enter the prize the draw to win prizes from our shop. Competition sheets are free with entry. Good Luck!

---
Not into Halloween..
Perrygrove is Halloween Free

Step into a Tranquil Oasis: Experience the Magic of Perrygrove without the Halloween Frenzy!
For those seeking solace from the Halloween hustle and bustle, Perrygrove stands as a sanctuary, proudly void of spooky embellishments. Here, you'll find a haven of normality amidst the seasonal clamor.

---
Get into the spirit of Halloween in these spellbinding events. Whether it's eerie adventures or family-friendly fun, there's something for everyone. Get ready for a hauntingly good time. Don't miss out on the spooktacular memories waiting to be made in the Forest of Dean and Wye Valley. #HalloweenintheDeanWye
Related
0 Comments