The Secret Sounds of Trees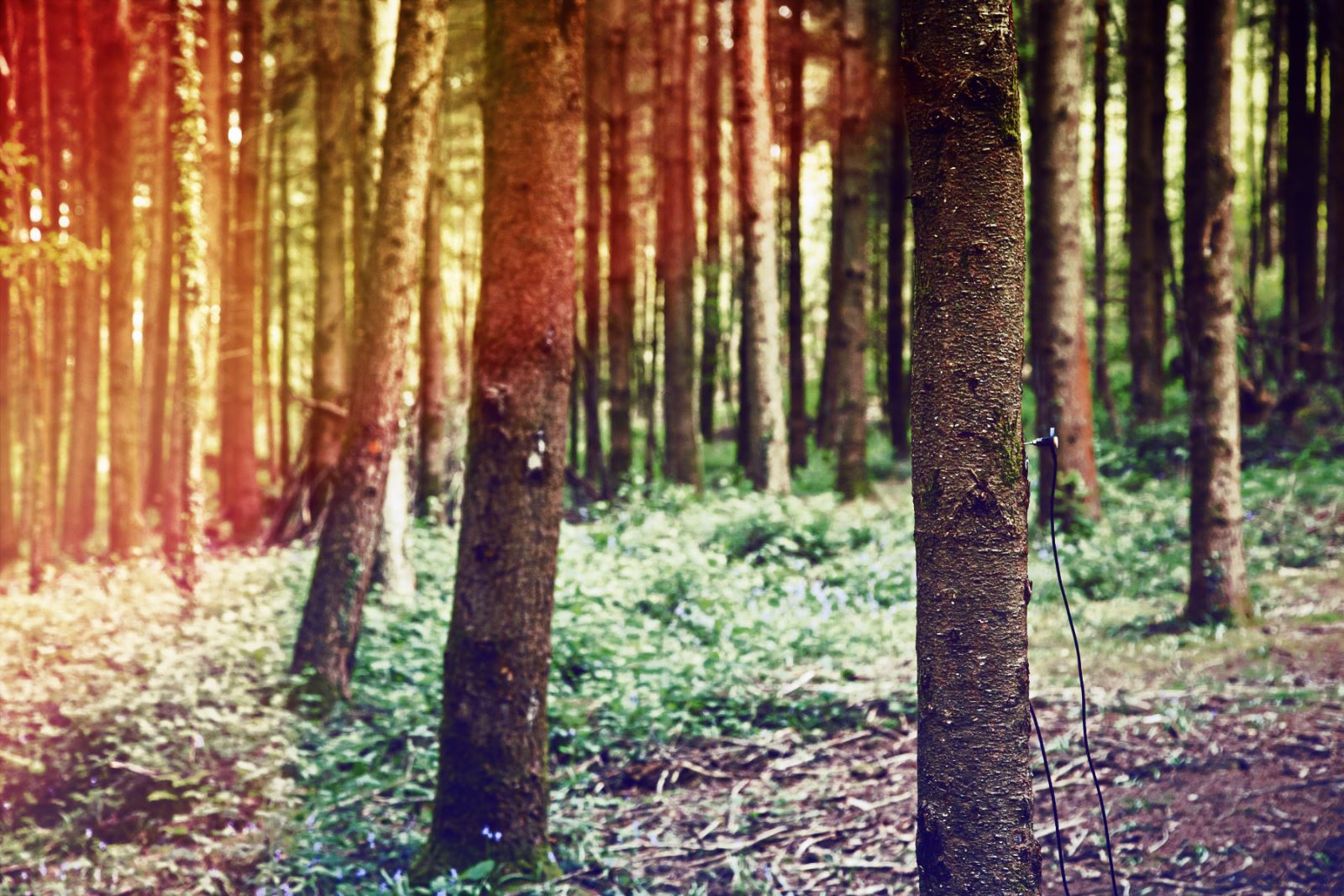 Awaken your senses in a new audio-visual installation Friday 22 – Sunday 24 September Beechenhurst, Forest of Dean
This September, step into the forest and explore the inner world of the trees in a new audiovisual experience at Beechenhurst, Forest of Dean. The Secret Sounds of Trees encourages audiences to take a deep breath, spend time in nature and discover the sounds of Beechenhurst's trees, plant life, soil and insects. An atmospheric soundscape, feathered, pink botanic, by acclaimed artists Jez riley French and Lau Nau will immerse audiences in a hidden world, revealing microscopic vibrations and secret sounds inaudible to the human ear.
These sounds of Beechenhurst are captured by Jez's specially designed microphones, as used in the David Attenborough series such as The Green Planet. In collaboration with Finnish artist Lau Nau these secret sounds have been turned into a unique soundscape which, combined with lighting by leading artist Ulf Pedersen, will enable audiences to experience Beechenhurst in a totally new way.
Scores of recent scientific studies have identified the myriad wellbeing benefits of wooded landscapes. This event invites audiences into the forest, to listen deeply to how the forest interconnects and allow the sounds of nature to transport and stimulate the senses. The Secret Sounds of Trees is a free, timed entry installation from twilight through the evening.

---
Free tickets will be available to book from Thursday 17th August.
This event is commissioned and produced by Sound UK in partnership with Forestry England. Funded by Arts Council England and PRS Foundation.
About the artists:
Jez riley French
Focusing extensively on sound as both material and subject, Jez riley French's work involves installation, intuitive composition, scores, film and photography. Alongside performances and exhibitions, Jez runs workshops, gives talks and has developed a range of specialist microphones and techniques now widely used across sound culture, including recently on The Green Planet. He also works as a curator and publisher. Aspects of his work have been exhibited or performed in events and installations alongside that of Yoko Ono, Annea Lockwood, Ryuichi Sakamoto, Sarah Lucas etc, and at galleries including Tate Modern, Tate Britain and MoCA (Tokyo). www.jezrileyfrench.co.uk
---
Lau Nau
Lau Nau, aka Laura Naukkarinen, is a Finnish composer whose music is imbued with an idiosyncratic, finely honed sound world. Her palette often consists of modular synthesisers, singing voice, traditional instruments, reel-to-reel tape recorders and field recordings. To date Lau Nau has released nine albums on record labels in Europe, USA and Japan. Lau Nau is also known for her music to films and multi-channel sound installations. In her role as a sound designer she won the Finnish State Prize for the Performing Arts 2021. She has toured abroad for over 20 years, playing in venues such as Super Deluxe in Tokyo, the Lab & Castro Theatre in San Francisco and Blank Forms & Issue Project Room in New York. https://launau.com/
---
Ulf Pedersen
Architectural in scale, Pedersen's work transforms the act of looking into a physical experience. Through a kind of light-based alchemy, outdoor spaces metamorphose into something unique and magical. In addition to working closely with the raw materials of the site, he uses light and colour as his essential tools. He has shown his work at Arts Festivals in Sydney, Hong Kong, Hobart & Wellington, as well as at national gardens and historic properties in the UK including 5 years of successful consecutive solo shows at the Lost Gardens of Heligan. www.ulfpedersen.com
---
About Sound UK
Sound UK creates extraordinary musical encounters that bring people together across the country. We work with artists and partner organisations to produce and commission brilliant new music, from shows in major concert halls to intimate performances on village greens, sound installations in museums to digital works online. The music we present in these places embraces all musical genres, from jazz to sound art, electronic to contemporary classical and all points in between. We work with the world's most creative artists to create memorable performances that excite and move audiences across the UK and beyond. For more information on Sound UK visit: www.sounduk.net
About Forestry England
Forestry England manages and cares for the nation's 1,500 woods and forests, with over 363 million visits per year. As England's largest land manager, we shape landscapes and enhance forests for people to enjoy, wildlife to flourish and businesses to grow. We are continuing the work we have already started to make the nation's forests resilient to climate change and by 2026 we will:
• create at least 6,000 more hectares where we integrate wilding activities in our productive forests.
• increase the diversity of visitors to the nation's forests and have one million hours of high-quality volunteer time given to the nation's forests
• plant at least 2,000 hectares of new, high quality, predominantly broadleaf woodlands For more information visit forestryengland.uk. Forestry England is an agency of the Forestry Commission.
Related
2 Comments